Harrison Chamber Political Action Committee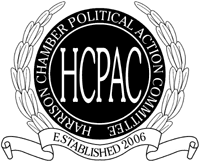 Mission: To create a better business environment by electing pro-business candidates in West Virginia.
2020 Harrison Chamber PAC Board of Trustees
Ted Lopez, Chairman
Stephanie Hayhurst-Hall, Treasurer
Jason Harshbarger
David Jones
Eric Kirkland
Jeff Kimble
Randy Light
What Can You Do?
Register To Vote - an individual can go to a site (click to see) on the Secretary of State's web site and register to vote or update his or her registration.
Run for Office - Candidate filing period is in January of each election year. Register with the Secretary of State's office for state-wide positions. For county and local positions, register with the County Clerk.
Find Out Who Are Your Candidates - The West Virginia Secretary of State's office has a web site that lists the candidates seeking election. Please click here to search this site.
Donate To A Campaign - an individual is allowed to provide a personal check (from $1 to $1,000) to a candidate for statewide office or the Legislature. An individual may also provide a personal check (from $1 to $1,000) to any number of political action committees, many of which are affiliated with chambers of commerce and business trade organizations in West Virginia.
Help A Candidate - Individuals may provide their time to help a candidate with his or her campaign activities or needs. Among the activities a person may do for a candidate are hosting a coffee with neighbors, putting up yard sign, helping with mailings, making phone calls, etc.
Write a Letter To Your Newspaper - Individuals can write a short letter of support for a candidate and send it to a local newspaper. This is a good way to help get publicity and generate support for a candidate.
Key Election Dates:
Provided are key dates to keep in mind for next election:
Last day to register to vote in the 2020 Primary Election is May 19th Get a form online here.
Early voting for the Primary begins May 27th
Last day for early voting is June 6th
Primary Election Day is Tuesday, June 9th. Polls are open 6:30am-7:30pm.